HVAC Definition Series – Thermal Envelope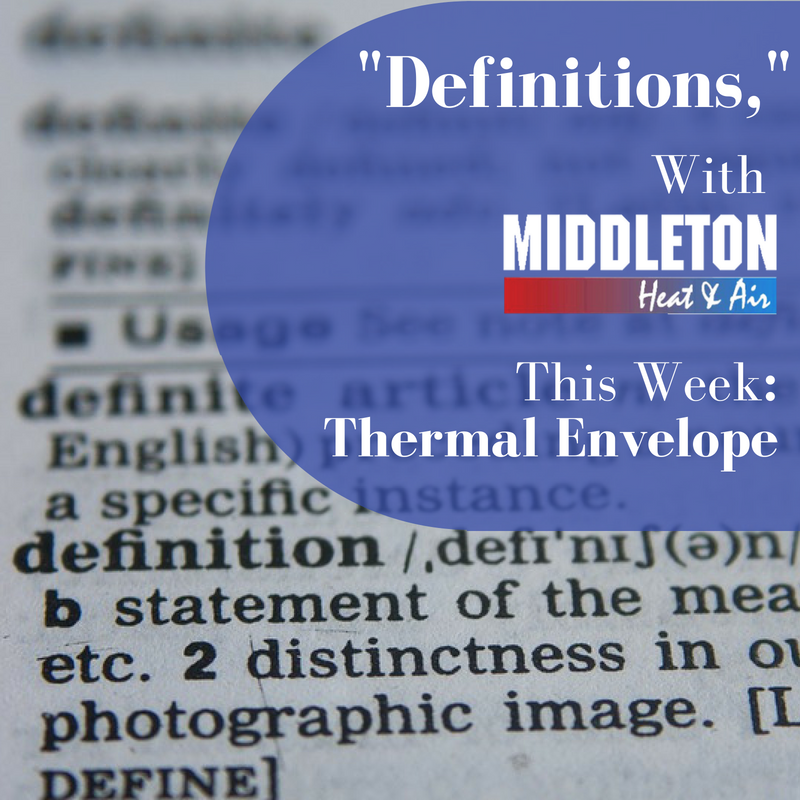 In the world of HVAC, we have our own vocabulary that we use every day, but sometimes the words we use don't translate to our customers. In this blog series, we will cover some of this terminology to help our customers understand what we mean and why these terms are important to their HVAC maintenance and installation. For the first blog in this series, we define the term thermal envelope and explain why it is important.
Definition:
Every home has a thermal envelope. The thermal envelope is basically any structure in your home that separates the air inside your home from the air outside. This includes anything intended to keep the air inside such as insulation, windows, floors, outer walls, and outside doors. The thermal envelope's only purpose is to prevent heat transfer from the interior of a building to the exterior in winter and vice versa in the summer.
Why is it important?
A thermal envelope is the key element of an energy efficient home. If the thermal envelope is not sealed correctly, the HVAC system ends up working overtime to cool or heat the home, because the air is just flowing through those cracks in the envelope and leaking outside. This can lead to reduced efficiency of the overall HVAC system, reduced indoor air quality, reduction in the system's lifespan, and increases in utility costs.
Repairs:
Breaches in the envelope can be caused by neglect, the environment, or even just time. Many older homes have weak thermal envelopes, which is what causes them to be drafty in winter and warm in the summer. However, even older homes can be improved to have more sealed thermal envelopes.
Examples of breaches are leaks in the attic, drafty doors, poor insulation, and cracks in windows. In newer homes, a homeowner can seal door and window air leaks with caulk, and add insulation to their attic to help make the thermal envelope more efficient. For older homes, it is advised to install higher performance windows and doors, as well as sealing smaller air leaks around the home.
During maintenance visits, Middleton can test for any air leaks in your system or home. We are also happy to come out and test for air leaks as part of a repair service if you suspect lost system efficiency. To schedule a maintenance visit from one of our expert technicians, visit us online or give us a call at 1-800-404-0371 to speak with a comfort specialist today.