Top 6 HVAC to-do's BEFORE Leaving on Vacation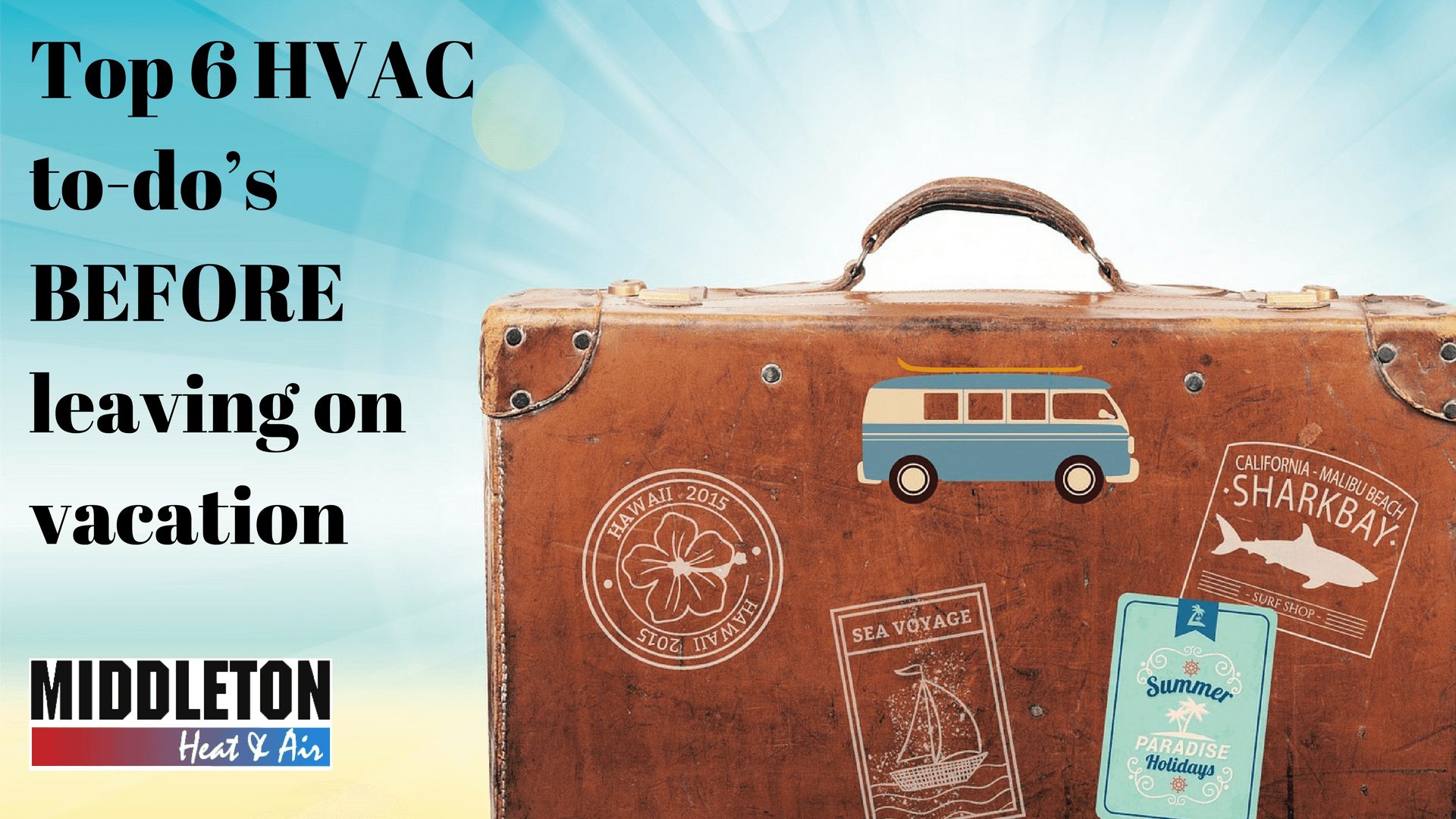 Summer is coming up, quick, and if you're anything like us, you're getting ready for a few days away from your everyday routines to relax and recharge. Before going away on your vacation, you probably have a few things on your to-do list such as boarding your pets, checking with your neighbors to pick up your mail, and asking them to keep an eye out for anything suspicious. One thing you probably haven't added to your pre-vacation to-do list is making sure your HVAC system is ready for you to go on vacation, as well.
Your HVAC unit is one of the most complex pieces of machinery in your home and also accounts for approximately 48 percent of your energy bills.
Tip #1: The first thing we suggest for our customers about to embark on vacations is to turn the thermostat up to anywhere between 80 to 85 degrees to save on energy, and therefore money, while they're gone. This also saves wear and tear on your unit, giving it a vacation of its own. If you have a programmable thermostat, you can set it to cool the house off right before you plan to get home.
Tip #2: Routine Maintenance is a must before leaving on vacation. Your technician will come in and evaluate your system, to make sure it is running properly and efficiently. They will also address any issues that may be wrong with the unit, giving you an extra bit of peace of mind while you're away.
Tip #3: Make sure all the air vents in your home are open. This ensures that airflow will not be obstructed and will not cause any issues or repair needs when you and your family are away from home. It will also ensure you don't come home to a frozen outdoor unit.
When you're on vacation, you're trying to get away from it all, not trying to worry about all the things that could be going wrong at home.
Tip #4: Check your exterior unit for any debris that could be clogging the system. Debris caught in the system could restrict airflow, leading to repair costs. In some cases, it is advised to attempt to secure your unit by installing a fence around it or placing some sort of lock on it to prevent damage and/or theft while you're away from home.
Tip #5: Right before you head out of town, it is advised that your air filter be as clean as possible to prevent any malfunctions to your system. Try to add changing your HVAC air filter to your pre-vacation to-do list so you don't come home to any unplanned and unbudgeted HVAC maintenance repairs.
Tip #6: Walk through your home before you leave to ensure that all windows and doors are closed tightly and locked to help your system run more efficiently. As a matter of fact, it can be a good idea to do this with a tube of caulk to close up any air leaks you find along the way.
Following these tips could be the difference in coming home to a happy, relaxed atmosphere or coming home to stress that leaves you wishing for your next get-away. If you need any help with making sure your unit is ready for vacation, or if you need to schedule your annual A/C maintenance, contact us online or by phone at 1-800-404-0371, to speak with one of our comfort specialists today.